Slide the Nile

Stay With Us & Get Free Access To Our Giant Slide 20m of pure adrenaline!
Explorers River Camp, Jinja, Uganda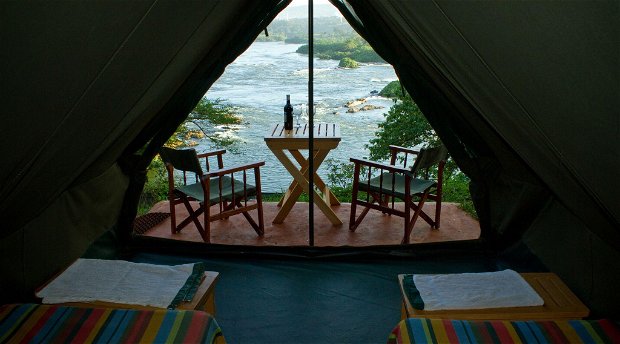 Situated 8km from Jinja town overlooking the River Nile, Explorers River Camp is often referred to as one of Uganda's, and even Africa's most memorable places to stay.
Fantastic views of the Nile, a well stocked bar and excellent meals have made this site one of East Africa's most popular places to stay. Whether you are camping, staying in dorms or rooms, our bar deck overlooking the river is the perfect place to enjoy a cold beer and amazing sunsets. The trees above boast a multitude of tropical bird life and monkeys, and the 'riverside showers' alone have become famous for the incredible scenery they overlook.
Lush terraces offer secluded safari tents with stunning views of the Nile. Our safari tents have become extremely popular and numbers are limited so it is strongly advised you book well in advance.
The River Spa offers manicures, pedicures and massages, as well as yoga classes.
Come for a night and stay for a week, you will find it hard to leave.
And don't miss out on the opportunity to experiencing the thrill of sliding down our 25m water slide. 
Rates
Double Room with Private Bathroom
27 Aug 2023 - 31 Dec 2024
$55.00
Double Occupancy
Per Night
$45.00
Single Occupancy
Per Night
$70.00
Three Guests
Per Night
$85.00
Four Guests
Per Night
$10.00
Per Child
Per Night

Comfortable and airy, these rooms have a double bed and a sofa bed that can converted to a bunk bed on request.
Each room sleeps 2 - 4 people and includes a private bathroom.
Breakfast included.
Bedding, including mosquito nets & towels provided.
Wi-Fi and DSTV are available in the bar area.


Twin Room with Private Bathroom
27 Aug 2023 - 31 Dec 2024
$55.00
Double Occupancy
Per Night
$45.00
Single Occupancy
Per Night
$10.00
Per Child
Per Night

Great for friends travelling together, these cosy rooms contain twin beds.
Each room sleeps 2 people and includes a private bathroom.
Breakfast included.
Bedding, including mosquito nets & towels provided.
Wi-Fi and DSTV are available in the bar area.


Twin Room with Shared Bathroom
27 Aug 2023 - 31 Dec 2024
$40.00
Per Room
Per Night
$30.00
Per Person Single
Per Night
$55.00
Three Guests
Per Night
$60.00
Four Guests
Per Night
$10.00
Per Child
Per Night

Spacious twin rooms contain two single beds and a sofa bed that can converted to a bunk bed on request.
Each room sleeps 2 - 4 people and makes use of outside shared ablution facilities.
Breakfast included.
Bedding, including mosquito nets & towels provided.
Wi-Fi and DSTV are available in the bar area.


Double Safari Tent with River View
27 Aug 2023 - 31 Dec 2024
$40.00
Double Occupancy
Per Night
$30.00
Single Occupancy
Per Night
$10.00
Per Child
Per Night

Lush terraces offer secluded safari tents with stunning views of the Nile. Our safari tents are extremely popular so we strongly advise you book well in advance.
Each tent sleeps 2 guests and makes use of outside shared ablution facilities.
Breakfast included.
Bedding & towels provided
Wi-Fi and DSTV are available in the bar area.

Twin Safari Tent with River View
27 Aug 2023 - 31 Dec 2024
$40.00
Double Occupancy
Per Night
$30.00
Single Occupancy
Per Night
$10.00
Per Child
Per Night

Lush terraces offer secluded safari tents with stunning views of the Nile. Our safari tents are extremely popular so we strongly advise you book well in advance.
Each tent sleeps 2 guests and makes use of outside shared ablution facilities.
Breakfast included.
Bedding & towels provided.
Wi-Fi and DSTV are available in the bar area.


Family Cottage with River View
27 Aug 2023 - 31 Dec 2024
$80.00
Double Occupancy
Per Night
$70.00
Single Occupancy
Per Night
$95.00
Three Guests
Per Night
$110.00
Four Guests
Per Night
$10.00
Per Child
Per Night

Tucked away on a lush terrace overlooking the river, this little cottage has a double bed and a sofa bed that can converted to a bunk bed on request.
Each room sleeps 2 - 4 people and includes a private bathroom.
Breakfast included
Bedding, including mosquito nets & towels provided.
Wi-Fi and DSTV are available in the bar area.


Dormitory (with breakfast)
27 Aug 2023 - 31 Dec 2024
$15.00
Per Person
Per Night
$12.00
Per Child
Per Night

We offer a large variety of dorm rooms including Ladies Only!, Men Only! and LGBTIQA+MF!, making it perfect for larger groups.
Most dorms make use of nearby outside shared ablution facilities.
The 12 bed dorm includes shared ablution facilities in the room.
Breakfast included
Bedding including mosquito nets provided.
Towels available for hire.
Wi-Fi and DSTV are available in the bar area.


Dormitory (without breakfast)
27 Aug 2023 - 31 Dec 2024
$12.00
Per Person
Per Night
$10.00
Per Child
Per Night

We offer a large variety of dorm rooms including Ladies Only!, Men Only! and LGBTIQA+MF!, making it perfect for larger groups.
Most dorms make use of nearby outside shared ablution facilities.
The 12 bed dorm includes shared ablution facilities in the room.
Breakfast NOT included
Bedding including mosquito nets provided.
Towels available for hire.
Wi-Fi and DSTV are available in the bar area.

Camping (with breakfast)
27 Aug 2023 - 31 Dec 2024
$10.00
Per Person
Per Night
$7.00
Per Child
Per Night

On a budget or on safari with a camper but don't feel like cooking, then why not pitch for tent on our expansive grass area and make use of reasonably priced B&B rates.
Breakfast included.
Tents & bedding NOT supplied.
Towels available for hire.
Wi-Fi and DSTV are available in the bar area.

Camping (without breakfast)
27 Aug 2023 - 31 Dec 2024
$7.00
Per Person
Per Night
$5.00
Per Child
Per Night

On a budget or on safari with a camper, then why not pitch your tent on our expansive grass area and make use of our campers community kitchens & BBQ area.
The camping area makes use of shared ablution facilities
Breakfast NOT included
Tents & bedding NOT provided.
Towels available for hire.
Wi-Fi and DSTV are available in the bar area.

Child Policies

Free 3 years & under
$10 Child 4-12 years
100% 13 years & above