Meet the Team
One of our greatest assets is our highly experienced and fun loving guides - true professionals, who know every bend in the river. Their knowledge of the Nile and enthusiastic attitude will keep you smiling and laughing all day.
Nile River Explorers concentrates on making it all work with the industry's best guides and employs more year round professionals than any other adventure company in Africa. Most have more than a decade on the Nile, and have the experience, local knowledge and character to take you on an unforgettable ride. The river will leave you astounded but it is the guides you will remember.
All our guides have valid First Aid Certification, as well as IRF approved Rafting and Swiftwater Rescue certification. All Trip Leaders are required to have a minimum of 5 years experience on a variety of river conditions in several countries.
Juma Kalikwani
Juma grew up in Jinja, and is one of our most accomplished river guides, kayakers and our head guide. Locally he is better known as "Via- Man", winner of the Eastern Uganda Artist of the year award in 2008 for his Afro Beat hits. He has been working on rivers for 18 years, starting out as a kayaker.
He has represented Uganda in the world kayaking championships in Australia, and has guided rafts on the Zambezi, and in South Africa, France and Scotland. In 2012 Juma was part of the kayaking demonstration team at the London Olympics.  His infectious humour, and cool competence make him a favourite, and if you are lucky he might break out in song as you float through the pools.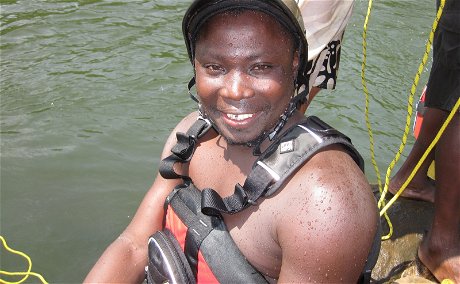 Paulo Babi
Paulo started kayaking and guiding 18 years ago, and is another of our reliable stalwarts. He was just sixteen when he started working with tourists, young enough to believe that he should not touch the sunscreen in case it would turn him Mzungu (white). Known as Mbati (Duck) for his ease on water, he has the biggest store of jokes of any of our guides, and chases the hugest waves on the river.
For a number of years he was Uganda's top freestyle kayaker, and represented Uganda at two world championship events. He has also traveled widely, taking part in a first descent of the Kagera River in Rwanda, and paddling in France and South Africa.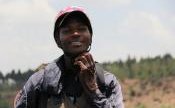 Josh Kagere
Josh has been with Nile River Explorers for around 9 years ans is one of our seasoned raft guides. He is always calm and steady on the water easily reassuring his clients of their safety. His cheeky smile makes him great with small kids and of course the ladies.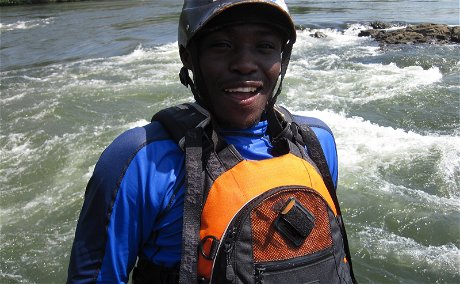 Peter Bagaga
They call him Little Peter as he looks about 15, but don't be fooled, he is an extremely able guide, with 13 years of experience on the Nile as well as rafting in Kenya and the Murchison section of the Nile. He will baffle you with his zany sense of humour and silly voices, but is adept at finding the sweet spots in the rapids.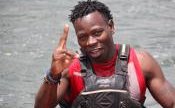 Latif Mwidu
Latif has been working on the river for around 7 years now, starting as a safety kayaker before moving up to tandem and raft guiding. A super talented tandem and freestyle kayaker, Latif can be seen doing all sorts of stunts and tricks in his kayak in between rescuing rafters. He also latif loves to river board down the Nile.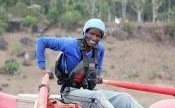 Paul Kagere
Paul stared off picking up lost paddles around 7 years ago and has progressed through the ranks from safety kayaker to raft guide. A keen photographer, when not on the river itself he can be found on the river bank snapping pictures on his camera.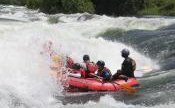 Timothy Kagere
Timothy is the youngest brother of Paul and Josh, he has been with the company for around 4 years, starting as a safety kayaker and moving on to rowing the safety boat. He now is one of our top river board and extreme 2 man raft guides as well as a raft guide.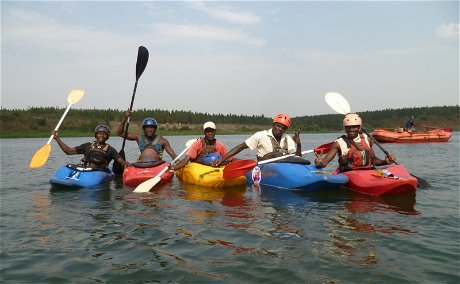 Safety Crew
Our safety crew is an essential part of the safe and smooth running of each trip. Chief amongst them is the oarsman on the safety boat, a slightly larger oarboat which carries safety equipment, first aid and lunch. His/her job is to oversee safety below each rapid from a stable position high in an eddy. From this lofty position he can spot an errant swimmer and direct the speedy team of safety kayakers, while being a great stable platform for picking up those swimmers. He aims to stay upright all day (never 100% guaranteed of course!) and the oar boat is a great place to ride if you want to experience the thrill of the Nile without the spills.
We have a lively, cheerful and loyal crew of extremely athletic safety kayakers, who spot swimmers before they are even aware of being in the water, and will snatch them out of the maelstrom. This is the entry-level position for our Ugandan crew. Once someone has proved to have good basic kayaking skills, we may take them onto our trainee team, where they learn about safety from the ground up. As skills and knowledge improve, they may begin to train in other skills, like rowing or tandem kayaking. Those with the best English and most sociable personalities may finally end up as guides, which is an aspiration for all.
You may meet a chatty guy while hanging on the end of his kayak one year, and come back to find him guiding your raft on the following visit. This is a highly sought after job, being fun and well-paid. The loudest noise you will hear as you travel down the river is the constant laughter from the sociable crew as they sing and joke their way through the day, while doing an extremely efficient job.
As with our guides, all safety crew have to have current First Aid certificates, and are required to attend regular Swiftwater Rescue courses. We also have regular in house training sessions, practicing our skills in on-river scenarios.