What sets us apart?
We thought you'd never ask!
Our staff are only too happy to answer your every question with up to the minute accuracy as well as seamlessly organize your activities, whether they are offered by Nile River Explorers or by any of our adventure partners in the region.
These include rafting, kayaking, river boarding, horse riding, quad biking, mountain biking or gentle sunset cruises and extend to information on safaris, gorilla tracking and chimp trekking, to mention a few.
If we don't know the answer, we usually know someone who does.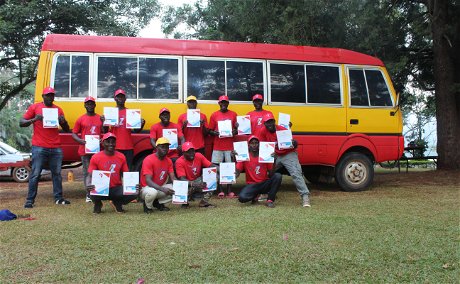 Equipment, Safety Standards & IRF Certification
Over 20 years of operating excellence have seen us take more than 50,000 visitors safely down this river. Our self enforced operating procedures are complemented by strong management and highly experienced guides.
In the absence of any national governing body, our management ensures that our guides are certified with the International Rafting Association (IRF). All of our equipment meets and exceeds international safety standards and is checked and replaced regularly. 
The only globally recognised raft guiding certification
The IRF Guide Training & Education (GTE) Award was created to provide commercial operators, industry organisations, national rafting federations, government regulators and other interested parties worldwide with a common standard for whitewater guiding professionals. To date, the IRF GTE system is the only globally recognised raft guiding certification. 
The IRF is recognised by the Adventure Travel Trade Association (ATTA) and the United Nations World Tourism Organisation (UNWTO), the two largest tourism bodies in the world, as the world body responsible for establishing and administering commercial raft guiding standards.
Nile River Explorers is the only company rafting the Nile whose guides are GTE certified.
Read More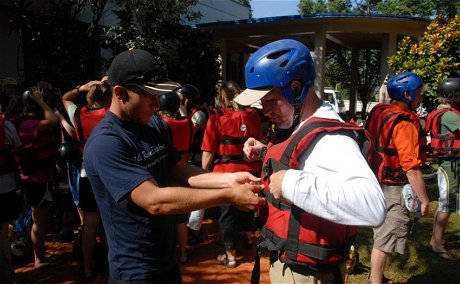 Experience Matters
At Nile River Explorers we all feel part of one big family. Our senior management and most of our guides have worked together for many years and are dedicated to ensuring that your safety, personal enjoyment and satisfaction come first. Meet the team.
Seventy percent of our clients are repeat or referred to us by clients who've had such a great time they just can't wait to tell others. You will discover that our warm friendly service begins with your first contact with Nile River Explorers.
So, regardless of the fact that this river is such an outstanding natural wonder and the activities we offer are such fun, we believe it is our years of experience that will make your experience on the Nile - to the best of our ability - simply unforgettable.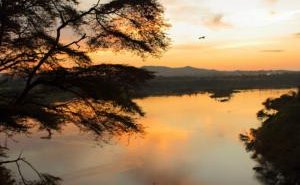 Location, Location, Location
When you travel you always have choices, we recognize that and do our up-most to offer them to you.
There are many accommodation options in Jinja Town and our staff are only to happy to make recommendations depending on your preferred style and budget.
Explorers River Camp in Bujagali, just 7kms from town offers offers a range of accommodation as well as an extensive, tasty menu and a fully stocked bar, all at affordable prices. And if that is not enough, wait until you see the view!!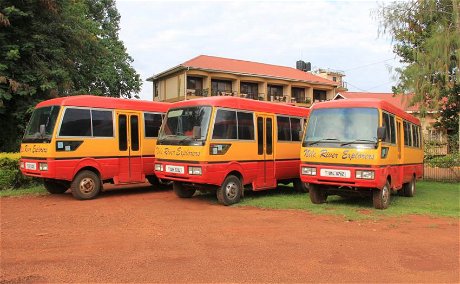 Transport
While we spend an enormous amount of time training our river crew and ensuring you will have the most up to date on river safety and equipment, it is on East African roads that you are often at risk.
With this in mind our fleet of 4 x 4 buses have been upgraded for maximum safety. These include safety belts on all seats, internal roll bars and all windows have been fitted with shatterproof glass.
Our vehicles also undergo regular mechanical checks and maintenance.