Grade 5 White Water Rafting

Grade 5 White Water Rafting

Grade 5 White Water Rafting
Grade 5 White Water Rafting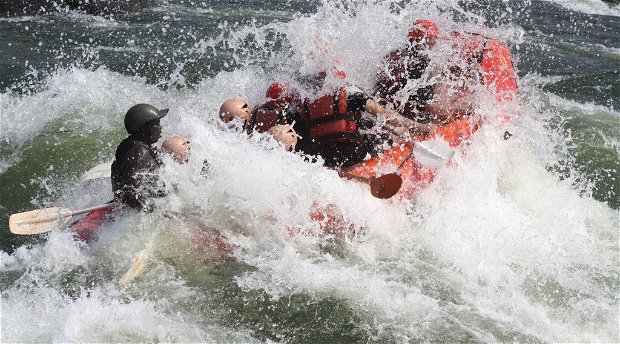 Get wet! Get wild! Get rafting! You have no idea how much fun you are about to have!
Considered one of the best one day white water trips in the world, no safari to Uganda would be complete without truly experiencing the Nile from its source.  
With a commitment to safety, quality and value for money, Nile River Explorers focus on providing our clients with an all inclusive experience of the Nile. We take a personal interest in every detail of your day to ensure your time with us is simply unforgettable.
FREE PHOTOS
Our expert photographers capture all the smiles and action so that you can relive the adventure for years to come.
FREE WATER SLIDE
Nile River Explorers is the only company that starts your day with a 40 metre water slide into the Nile.
Gallery
Trip Info
Included

Africa's most experienced & qualified river crew
Tea, coffee & breakfast
Drinking water on the river
Snacks during the trip
Assorted beers & sodas, with wraps at the end of the day,
FREE photos
FREE slide
All the latest equipment
Extensive safety briefing & practice drills
Safety raft and kayakers with every trip
Itinerary

Start the morning with a delicious breakfast overlooking the Nile. After an initial briefing from our guide, you will fitted out with life jackets and helmets before heading off down river to the start point. 
Whether staying in Jinja town or at our Explorers River Camp (highly recommended!), we will provide free transport to our rafting start point. Please ensure that we are aware of your pick-up point the day before. 
On arrival you will have the opportunity to meet your fellow rafters and guides. Once down at the river's edge, you will receive a detailed safety briefing, before launching into the river on our 40 metre water slide, for some practical instruction. 
As the river meanders through beautiful scenery, we guide the rafts into the mighty challenges of some of the biggest and safest white water rafting in the world.
We stop before all the rapids to explain to you the planned route through so as to ensure maximum fun and safety. If at any time you feel you would prefer to join the safety boat or where possible, walk around and then rejoin the raft, this is absolutely fine. Calm stretches of water separate the rapids – perfect for getting your breath back, taking a swim and enjoying the scenery.
Midway through the trip, on one of the flat pools, we will serve biscuits and Uganda's famous juicy pineapples. Once you have eaten your fill and sated your thirst, we head off for some more action.
Cold beer, soda's and fresh chicken wraps are a welcome reward as we pack up the gear for the drive back to Jinja.
For those of you staying at Explorers River Camp at Bujugali, there is no better way to finish the day than by enjoying the unequalled views of a sunset on the Nile.