Family Float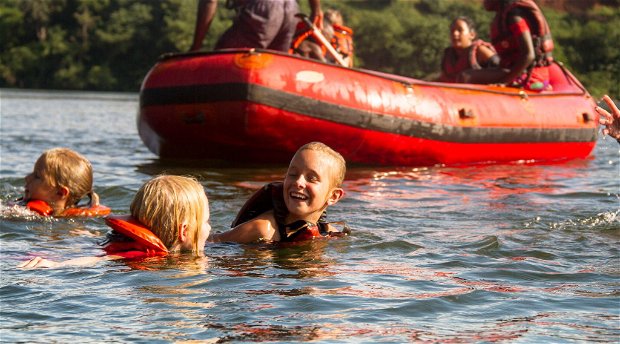 For the not so adventurous or the not so tall, why not spend your time drifting down the Nile. Beautiful islands, birdlife and flat, slow moving water make it the ideal short family outing for both young and old.
This two hour family float is the perfect adventure for small kids. With a minimum age of 4, and plenty of opportunity to splash in the waters of the Nile, this trip provides a wonderful morning adventure for families.
This trip is a great experience for younger families and grandparents alike. For those who wish, there is plenty of places for the kids to swim, always under the watchful eyes of our safety kayakers.
Gallery
Trip Info
Included
Africa's most experienced & qualified river crew
Cold drinks at the end of the trip
Free use of our water slide (6 years & above)
Safety kayakers with every trip
Itinerary
Whether staying in Jinja town or at our Explorers River Camp (highly recommended!), we will provide free transport to the start point where you will be fitted out with life jackets. Please ensure that we are aware of your pick-up point the day before.
Starting just below Owen Fall's dam, we take time explore the many islands along this stretch of the Nile. Deep water and flat moving pools offer lots of opportunities for the kids to swim, dive and play.
There is an abundance of birdlife and wildlife to search for including Cape Clawless Otter, Red Tail Monkeys, Vervet Monkeys and Giant Nile Monitor Lizards.
We finish at Explorers River Camp at Bujagali Falls where there is time, if you're brave enough, to test out our 25 metre water slide or enjoy a meal at the Fork n' Paddle overlooking the Nile.