White Water Tubing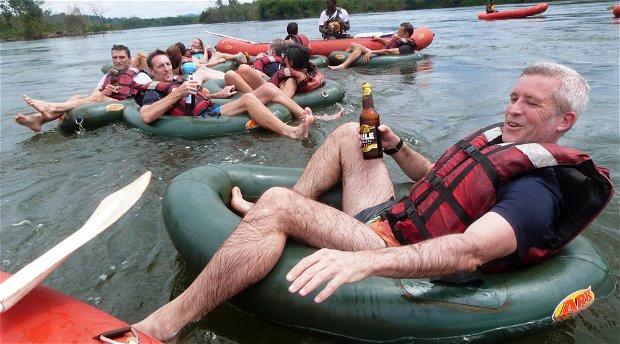 Up for an adventure but in a lazy kind of way?
Floating along the banks of the Nile, drinking in the breathtaking scenery, spying local wildlife and birdlife, while sharing the day with friends and family, this is the adventure you deserve. 
Fishermen in dugouts, an abundance of birdlife and wildlife to search for including Cape Clawless Otter, Red Tail Monkeys, Vervet Monkeys and Giant Nile Monitor Lizards, combined with fun and white water adventure make this the perfect family and friends day out on the Nile.
The small rapids are fun without being overwhelming, so there is white water action, but also time to lay back, relax and enjoy your surroundings. 
Gallery
Itinerary
Included
Africa's most experienced & qualified river crew
Cold drinks, biscuits & Uganda's famous pineapples
Safety kayakers with every trip
FREE access to our 25m water slide
Itinerary
Whether staying in Jinja town or at our Explorers River Camp (recommended!), we will provide free transport to the start point where you will be fitted out with safety gear. Please ensure that we are aware of your pick-up point the day before.
Starting down from Bujagali dam, we take time explore the many islands along this stretch of the Nile. Deep water and flat moving pools offer lots of opportunities to swim and play. We stop before all the rapids to explain to you the planned route through so as to ensure maximum fun and safety.
Midway through the trip, on one of the flat pools, we will serve biscuits and Uganda's famous juicy pineapples. Once you have eaten your fill and sated your thirst, we head off for some more action.
We finish 5kms down river then return to Jinja before proceeding to Explorers River Camp at Bujagali Falls where, if your brave enough, you can test out our 25 metre water slide.