Meet the Back-up
At Nile River Explorers we all feel part of one big family. Our senior management and most of our guides have worked together for many years and are dedicated to ensuring that your safety, personal enjoyment and satisfaction come first.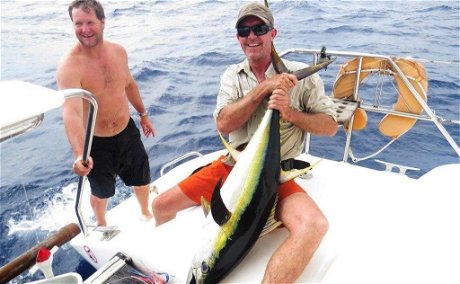 Jon Dahl
Jon's first trip to Uganda was with the legendary Kingsley Holgate on the Afrika Odyssey trip in 1993, and it wasn't 18 months before he was back with an old landrover and some rafts .
The town of Jinja has changed immensely since then and so has Nile River Explorers. No longer found paddling rafts downstream daily, Jon has had more time to devote to expanding NRE's activities and affiliations to make it the kind of base he would have dreamed of finding in his travelling days .
He has done almost every job there is to do in the company and has replaced himself with someone better qualified for that job. His dream is to make himself redundant, but every time he gets close he finds another new activity or adventure to keep him inspired (and employed!). His enthusiasm and innovation seem to trickle all the way down in and he would be proud to think that your time with Nile River Explorers was, more than anything else, FUN.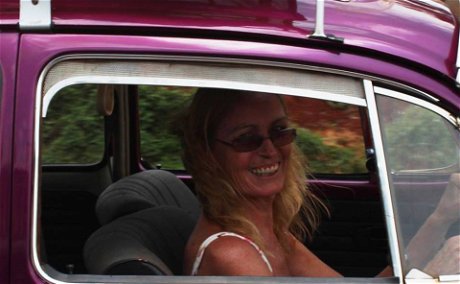 Leslie Carvell
After training in Hotel and Catering Management and having interned at the Sydney Opera House, Leslie started her own independent travelling career, which in those days inevitably lead her to work as an overland driver .
Having exhausted Africa, Asia, South America and the Middle East she managed the office for a large overland company in the UK for 4 ½ years and juggled operations on all those continents for countless trucks and passengers . Finding UK winters long and dark, she jumped at the offer of a job with Nile River Explorers in Jinja 15 years ago but insisted on bringing her signature VW Beetle, which she personally restored.
Her vision, communication and media experience and calm logistic skills have integrated NRE's many activities and affiliates and added a smooth professionalism that has helped make us the leader in Uganda for a one stop travel experience . These , and her other countless talents make her an exceptionally valuable asset to the NRE team and you can be sure that the seamless tourist experience you can find at NRE has her "behind the scenes" stamp on it somewhere .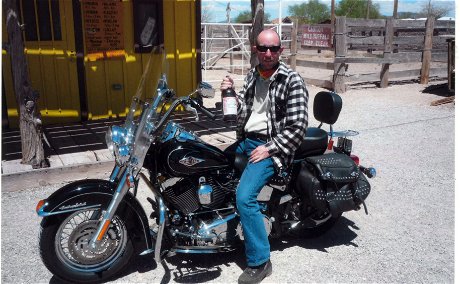 Mark Vine
This is the face behind your email replies…and what a face. Mark first visited Jinja 25 years ago on his maiden trans Africa motorbike trip. He then became another veteran of the multi continent overland driving industry, but has added to it a dimension of several years of tailor made safaris across East Africa.
He misses very little about his British homeland (but if you pop a Melton Mowbray pork pie in your bag, you may find your Jinja experience very smooth indeed……). He has a sign in his home that reads "be nice, or leave" but I've yet to see him order anyone to leave…his tolerance levels are very high.
Mark is the man who coordinates our wide range of river, accommodation, vehicle, catering and logistics staff and does it with a humour and skill that makes us proud that he is probably the first person you'll meet when you arrive for an NRE activity.
If you are unlucky enough not to find him in the office when you arrive, chances are he is traversing the USA on a Harley Davidson.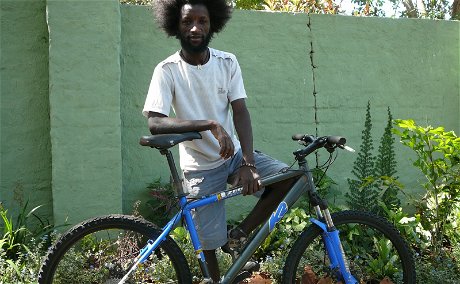 Nash Karanga
If you arrive at Explorers Backpackers and meet a man with hair, its Nash. If you're unsure, look for the bicycle chain bracelet….its a giveaway .
Nash's first love is bicycles and he came to Uganda from his native Kenya for the first time 10 years ago, assisting on a bicycle tour. Now he keeps his own fleet of handpicked and serviced bikes which he will rent to you only if you promise to have fun.
His sunny, easy going personality and ability to organize anything under pressure also makes him perfect to manage our backpackers and help you maximise your stay. Enjoy meeting him on your first trip, and enjoy coming back as his friend on your subsequent trips.